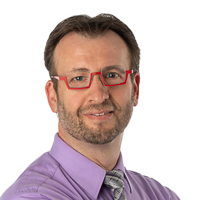 Ananda Newmark, Ph.D.
B.S.W. Program director and associate professor in teaching
Email: anewmark@vcu.edu
Phone: (804) 828-0456
Ph.D., Virginia Commonwealth University
M.S.W, Virginia Commonwealth University
B.A., University of Arkansas
Ananda Newmark attended the University of Arkansas-Fayetteville and earned a Bachelor of Arts in Social Work and German in 1998. Following two years of professional practice, he returned to graduate school at Virginia Commonwealth University where he graduated with his Masters of Social Work degree in 2002 from the Advanced Standing Program. Upon receiving his M.S.W., Newmark returned to professional practice before entering higher education at VCU in 2005 with the School of Social Work. Newmark served as a retention and recruitment coordinator and academic adviser to B.S.W. students until assuming VCU's Baccalaureate Social Work Program director interim position in 2011 and appointed director in 2012. Newmark entered the Ph.D. social work program at VCU in 2010 and completed his Ph.D. degree in 2016 with his dissertation titled, Student Engagement in Undergraduate Social Work Education among 'At-risk' Students. Newmark's research fills a gap in the literature, offering a foundation from which to understand how B.S.W. students engage in their college experiences. His focus on student engagement stems from over a decade of work ensuring student success with B.S.W. students, in particular, those who are at-risk, first-generation college students and transfer students. Additionally, his scholarly interests include the intersectionality of technology and social work education. Newmark teaches in the B.S.W. Program and continues to engage in administrative and scholarly activities as an associate professor in teaching at VCU.
Scholarship
Selected publications
Secret, M., Ward, C., & Newmark, A. (In Press). Converting a face-to-face introductory research methods course to an online format: Pedagogical issues and technological tools. Journal of Teaching in Social Work.