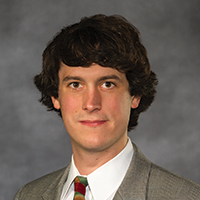 M.S.W., Columbia University
B.S.W., George Mason University
Tommy Buckley is a doctoral candidate at Virginia Commonwealth University School of Social Work. His academic and professional careers have consistently focused on the field of aging and working with older adults. His research interests focus on models of long term care services for older adults, aging in place, the wellbeing of gerontological service providers, and the impact of climate change and natural disasters on the mental health of older adults.
Buckley earned his Bachelor of Social Work from George Mason University, where he completed field placements at a senior center and a hospice agency. After receiving his B.S.W., he worked for a year with a mental health agency that worked with community-dwelling older adults. He then earned his Master of Social Work from Columbia University School of Social Work, where he specialized in social enterprise administration and aging. While at Columbia, he completed his field placement at the Program Planning division at the New York City Department for the Aging. During this field placement, he worked on a project that studied the mental health and social service needs of older adults in New York City who were affected by Superstorm Sandy.
Prior to enrolling at the VCU School of Social Work Ph.D. Program, Buckley worked for two years with a diverse population of older adults in Programs of All-Inclusive Care for the Elderly (PACE). This included working for a year and a half at On Lok PACE in San Francisco, CA.
Buckley is currently working on several projects in his Ph.D. education. The first one involves a music and memory intervention for older adults with dementia who reside in nursing homes, and specifically creating a Student Ambassador Program to involve B.S.W. students in the research process. The second project examines the mental health of older adults in Puerto Rico following Hurricane Maria and developing a mental health intervention to address unmet mental health needs of this population.
In his free time, Buckley enjoys exercising, doing anything outdoors, cooking, traveling, and spending time with family.
Recent and current funded projects
July 2019-June 2020. Project Lead, "The Implementation and Evaluation of a Student Ambassador Program for a Music and Memory Intervention" 4-VA Collaborative, $19,500.
PI: Cathy Tompkins
Notable awards, honors and appointments
B.S.W. Advocacy Award, George Mason University College of Health and Human Services, May 2013
Pre-Dissertation Fellow, Association for Gerontology Education in Social Work (AGESW), Boston, November, 2018
Doctoral Scholars Institute, Network for Social Work Management, Chicago, June, 2019
Publications
Kim, K., Hong, M., & Buckley, T. (in press). Family caregiving situations and engagement in advance care planning. Journal of Palliative Medicine.
Cox, C., Doron, I., & Buckley, T. (submitted). The human right to long term services and supports: a comparative study based on the International Older Persons' Human Rights Index (IOPHRI). Journal of Aging and Social Policy.
Peer-review presentations
Childs, E. & Buckley, T. (2019, October). Rural social work education in American BSW programs. Poster to be presented at the annual program meeting of the Council on Social Work Education, Denver, CO.
Childs, E. & Buckley, T. (2019, August). A content analysis of rural social work education in American BSW programs. Poster to be presented at the Rural Sociological Society Conference, Richmond, VA.
Buckley, T., Watts, K. J., Dick, D., & Chartier, K. (2019, January). Examining the effects of traumatic or stressful events experienced in childhood and college on the mental health of college students. Poster session presented at the Society for Social Work and Research 2019 Annual Conference, San Francisco, CA.
Kim, K., Hong, M., & Buckley, T. (2018, November). Family caregiving environment and engagement in advance care planning. Poster session presented at the meeting of Gerontological Society of America, Boston, MA.]