Bachelor of Social Work
Prepare to meet the challenges of social work with strength and compassion
Accredited by the Council on Social Work Education through 2027, the B.S.W. degree from VCU prepares students for beginning-level generalist social work practice. That practice requires a broad base of knowledge and field experience concerning how individuals, families, groups, communities and organizations function, as well as an appreciation of cultural diversity.
61%

61% of students enter our B.S.W. Program as transfers *
18:1

18:1 faculty-to-student ratio
55+

40+ full-time faculty, 15+ adjunct B.S.W. faculty
What we offer
Our small class sizes afford students the room and time to connect with their teachers and each other, to fully contemplate where their true passions lie and to reflect on their shared experiences. And through it all, whether in our on-campus format or through our online courses, they're given the tools and encouragement to embrace their own unique insights and fashion themselves into the practitioner they most want to be.
Students are exposed to a variety of skills and interventions — in the classroom and through field education — to use in social work settings. When students enter the field as professionals, they do so equipped with a nuanced understanding of the day-to-day demands of the job.
With more than 500 local nonprofits, organizations and agencies, students have an opportunity to spend their required field placements in the Greater Richmond community, gaining real-world training that builds on their in-class learning. Many of the on-site field instructors who are helping guide field education are themselves VCU social work alumni.
On-campus students experience the vibrancy of the VCU and Richmond communities. All students may participate in the B.S.W. Student Association, along with two affinity groups, the Association of Black Social Workers and the Queer & Trans Social Workers at VCU. Community service and a host of university organizations and events provide opportunities for students to stay engaged and find their niche.
The school is a short distance from the State Capitol, where students in policy-related courses participate in an annual lobby day with state legislators. The campus and city blend into a vibrant and eclectic mosaic featuring bold murals, galleries, museums, restaurants, shopping and diverse neighborhoods.
On-campus format
The B.S.W. Program is available in an on-campus format at the Monroe Park Campus.
The degree program is available to incoming first-year students, who start in a lower-level division of the program, and to transfer students; transfers from Brightpoint (formerly John Tyler) and Reynolds community college can begin upper-level courses as juniors, while students from other colleges must have their transfer credits evaluated.
Selected online courses
The school offers more access and flexibility for students with the addition of online course sections, including three junior-level social work courses in a two-semester sequence. Availability starts with Fall 2022 and Spring 2023, and continues for the Spring and Summer 2023 semesters.
Also available will be two sophomore-level social work courses that must be completed before starting the junior-level major coursework. The five courses offered in Fall 2022, all of which have required synchronous class days, are:
SLWK 201 - Introduction to Social Work
SLWK 230 - Communication in the Helping Process
SLWK 311 - Social Work and Oppressed Groups
SLWK 313 - Person in Society
SLWK 380 - Foundations of Social Work Research I
Senior-level B.S.W. courses will begin being offered online in Fall 2023. See the VCU Undergraduate Bulletin for detailed course descriptions.
Ramsville: Ramsville is a vibrant and diverse community for students to explore during their social work studies. People and places in Ramsville will appear in assignments and activities in courses. Feel free to visit locations on the map, learn about some of the residents, and work with them alongside the social workers at Commonwealth Health and Human Services.
B.S.W. Program goals
The primary goals of the B.S.W. Program are to provide:
An integrated curriculum based on the knowledge, skills, ethics and values essential for beginning generalist social work practice
An educational experience that facilitates the critical analysis of social work knowledge and practice
Classroom and field instruction experiences designed to promote culturally sensitive practice with diverse and oppressed groups
An environment that encourages lifelong learning and prepares students for professional growth and development
Curriculum and core competencies
Upon degree completion, students will exhibit the following core competencies of social work practice:
Demonstrate ethical and professional behavior
Engage diversity and difference in practice
Advance human rights and social, economic and environmental justice
Engage in practice-informed research and research-informed practice
Engage in policy practice
Engage with individuals, families, groups, organizations and communities
Assess individuals, families, groups, organizations and communities
Intervene with individuals, families, groups, organizations and communities
Evaluate practice with individuals, families, groups, organizations and communities
Career areas
Our B.S.W. graduates can empower others and effect change in areas such as:
Addiction, substance use and behavioral health
Aging
Child welfare
Community development
Corrections/justice
Developmental disabilities
Employment/occupational social work
Family services/group services
Health care services
Homelessness/housing
International social work
Mental health
Public welfare
Rehabilitation
School social work
Graduate with honors
B.S.W. students are offered the opportunity to graduate with honors following the completion of an independent senior research project successfully defended in front of a committee of three faculty members. Students interested in earning honors in social work are encouraged speak with their student success advisor. Students interested in additional university honors opportunities are encouraged to apply to the VCU Honors College.
Earn your M.S.W.
B.S.W. degree-holders who have graduated from an accredited program in the past five years have the unique opportunity to apply to the advanced standing track of the M.S.W. Program. The advanced standing option allows these students interested in pursuing graduate study the opportunity to earn an M.S.W. in only 42 credit hours. If accepted into the advanced standing M.S.W. track, students complete their graduate degree over the course of three continuous semesters. Students may also apply to the regular standing M.S.W. Program. For more information, please reach out to the admissions team.
Ready to learn more?
I credit the School of Social Work for providing me with guidance in the planning of my future. I often refer back to the social work core values taught to me at VCU. I try to apply those core values in every significant decision I make in my life."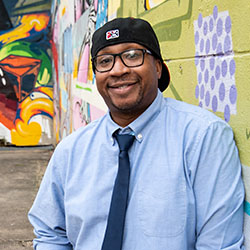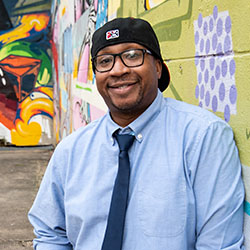 Accreditation
VCU's B.S.W. and M.S.W. programs are accredited by the Commission on Accreditation of the Council on Social Work Education – the accrediting body for all schools of social work at both the baccalaureate and master's levels.
Have questions?
Prospective students are encouraged to contact the School of Social Work's Office of Student Success at sswinfo@vcu.edu.