Child Welfare Stipend Program
Preparing social work practitioners to engage families, support children and foster connections
Are you interested in child welfare, and working with children and families? If so, check out this important program that will prepare you for a meaningful career in child welfare while offering some incredible benefits.
About the program
The Title IV-E Child Welfare Stipend Program is a partnership between the Virginia Department of Social Services and four state universities within Virginia, including Virginia Commonwealth University. This specialized training program, funded through Title IV-E of the Social Security Act, prepares social work students for a career in public child welfare. The goal of the CWSP at VCU is to recruit and prepare a caring, competent and innovative child welfare workforce in Virginia. News and updates about CWSP »
Program benefits
The CWSP at VCU provides students with the following training and support:
Field placement experience within a local department of social services
Required training through the Commonwealth of Virginia Learning Center
Child welfare-specific coursework
Topical and skills workshops
Support in the employment search process
A supportive network of professionals, including current child welfare workers, community partners, cohort members and university coordinators
Stipend amount awarded
B.S.W. and M.S.W. students accepted into this program receive a $10,000 stipend per academic year.
Stipulations
In exchange for the stipend and child welfare training, the stipend recipient has a work payback requirement to work at a local department of social services within the Commonwealth of Virginia, in foster care, adoption and/or in-home (prevention) services, for one calendar year for each academic year the stipend was received.
Why child welfare?
It is a crucial time for social workers to specialize in child welfare practice as practitioners and researchers grapple with the history of child welfare and current implications for this area of practice. The existing child welfare workforce needs new colleagues to join them in the field who are critical thinkers, diligent workers, full of compassion and agents of change. Child welfare practitioners have been working with policymakers to shift the child welfare system toward prevention and to work toward better outcomes for youth currently in foster care; there is so much important work to do.
How to apply
VCU B.S.W. and M.S.W. students can apply for the stipend. Review the next sections to learn about the application process.
Screening and selection process
The CWSP coordinator at VCU and/or Advisory Committee members review and screen application packets. Once admission to the M.S.W. Program is confirmed or B.S.W. status is confirmed, applicants selected for the next stage of the process are scheduled for a required face-to-face interview in person or virtually. During the interview, applicants are asked a series of questions and are informed in more detail of the postgraduation commitment. Applicants are selected for the program based on a thorough review of application materials and the face-to-face interview.
Student notification and acceptance of stipends
Applicants will be notified in writing via email about the award decision in a timely manner after interviews are completed for each group of applicants. Applicants who are offered a spot in the CWSP and choose to accept the financial award will be required to sign a legally binding contractual agreement obligating them to seek and obtain employment in a local department of social services in Virginia postgraduation in prevention, foster care and/or adoption services. This contractual agreement will be sent to applicants upon award notification. Applicants who choose to accept the stipend must submit a signed copy of the Child Welfare Stipend Program Student Agreement to the coordinator at VCU along with a copy of their M.S.W. Program acceptance letter.
Important notes
Financial awards are communicated to the VCU Financial Aid Office and disbursed to student aid accounts. Acceptance of this stipend may affect other financial aid that you receive. Applicants must contact the VCU Financial Aid Office to determine the impact of the award upon eligibility for other financial aid awards.
Monies awarded to student accounts are to be used to cover tuition first. If any monies remain in the student account, they may be used to cover applicable fees.
Your application will be reviewed fully by faculty and community partners tasked with making a recommendation about your admittance to the program.
Stipend recipients must verify identity and employment eligibility by completing Section 1 of INS Form I-9, providing the required documentation and submitting these to the Child Welfare Stipend Program Coordinator at VCU as part of the admissions process prior to or at the time of signing the contractual agreement.
If you are selected for an award, you will be required to complete a Request for a Search of the Child Protective Services Central Registry, a Criminal History Record Request and an Information Request for the Virginia Department of Motor Vehicles upon entering your field placement and upon obtaining employment in a state or local department of social services. A history of founded CPS complaints, criminal convictions or poor driving record may be a barrier to field placement and employment in Virginia's state or local departments of social services and thus may make you ineligible to receive the award if you are not accepted for a placement by a local department of social services. If you have concerns about your eligibility, please email the program coordinator at cwstipend@vcu.edu for more information. Failure to disclose this information or to report any change of status relative to conviction of a crime, any moving traffic violations or a founded complaint of child abuse/neglect may result in dismissal from the Child Welfare Stipend Program and require your repayment of the financial award.
Preparing your application packet
The following steps must be completed and your documents submitted by the application deadline to be considered. Your emailed submission of required documents will be acknowledged within five business days of submission.
Review and reflect
Please review and reflect on the following:
Write a professional reflection
After you have reflected on the material above, please submit your responses to the following questions. Responses should be a maximum length of two pages in total. Responses will be evaluated on quality of substance and writing skills; be thorough, yet concise.
Why are you interested in working with families in the public child welfare system, specifically in prevention, foster care and/or adoption services?
What experience have you had in public or private child welfare, as a volunteer, student or employee? How has that experience influenced you? If you do not have experience in child welfare, tell us more about what you understand to be the focus and importance of child welfare work.
Describe your immediate career goals. How will a social work education with a focus in public child welfare help you obtain these goals?
Working in public child welfare often means you are working in situations that will challenge you personally and professionally. Tell us about a time when you encountered a challenge where there was no way out but through. How did you work through that experience?
The Commonwealth of Virginia is investing significant resources to prepare its future child welfare workforce. Tell us what strengths you will add to the child welfare workforce if chosen to participate in this program.
Submit your professional reflection and resume
Please submit your professional reflection and current resume to cwstipend@vcu.edu. Your current resume should include education, employment, volunteer and field/internship experience.
Professional references
​​Each applicant must have at least two professional references who complete and submit the CWSP reference form.
Both references must be from professionals who have worked with you; preferably one from someone who has supervised you in some capacity.
Complete and submit the CWSP application form
To complete your application, fill out and submit the CWSP application form. All application materials must be submitted by the application deadline in order for your application packet to be reviewed and considered.
🐏
Applications are now closed for the 2023-24 cohort.
The application process for the 2024-2025 cohort will open October 2023.
Application deadlines
The CWSP at VCU solicits applications for full-time current and prospective students each year to apply to join the program as a part of a cohort that begins in the fall semester. Applications for each cohort open in October for the following academic year cohort.
Complete application packets are due according to the following deadlines (exact dates subject to change each year):
Closed: March 15, 2023, for the following groups of students:

Prospective incoming students for the M.S.W. advanced standing formats*
Prospective incoming students for the M.S.W. regular standing formats*
Current B.S.W. students going into their senior year in Fall 2023
*Prospective students: You may not yet have your M.S.W. admission decision prior to the CWSP application date; however, you still must apply to be considered, as application packets received after the CWSP March 15 application deadline will not be considered.
Closed: Dec. 14, 2022, for M.S.W. on-campus and online students starting their specialization year (third semester) Fall 2023.

This group includes M.S.W online students beginning the M.S.W. Program in the Spring 2023 semester on the 16-month track.
Application packets for students to join the CWSP cohort in their third semester (Fall 2023) submitted after the Dec. 14 application deadline were not considered.
Resources for child welfare practice and research
If you're interested in additional resources, please review:
Contact us
For questions about the program, contact Naomi Reddish, Child Welfare Stipend Program coordinator, at cwstipend@vcu.edu.
Not only has participating in the Child Welfare Stipend Program given me extensive training and knowledge of the child welfare system, the financial aspect of the program allowed me to focus on my studies without the stress of taking on extra loans to pay for graduate school."

Hannah Truex (she/her), M.S.W. graduate
The CWSP has helped me to understand that within this field of work, one must first have passion which allows practitioners to be more observant and goal-oriented while working with families."

Kayla Barner (she/her), M.S.W. graduate
CWSP has empowered me to be a leader by providing me opportunities to facilitate tough yet ever-important discussions, such as having the privilege to co-moderate a discussion panel regarding the identification and dismantling of structural racism in the child welfare system."

John Ruane (he/him), M.S.W. graduate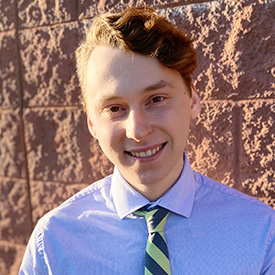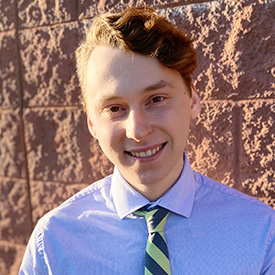 Meet more of our graduates