Commencement
Watch the Class of 2023 graduate May 12
Slide to the 20-minute mark to view our ceremony archive as our Ph.D., M.S.W. and B.S.W. graduates receive their degrees.
Spring 2023 Commencement
The School of Social Work's Spring 2023 Commencement ceremony was held Friday, May 12, at the Siegel Center. We celebrated our Bachelor of Social Work, Master of Social Work and Doctor of Philosophy in Social Work graduates.
View the ceremony archive above (starts at 20-minute mark).
Commencement program:
VCU will hold the university-wide Spring 2023 Commencement ceremony at 10 a.m. ET Saturday, May 13, at the Greater Richmond Convention Center. More details
Seating and guest tickets
Tickets are not required. Graduates may bring as many guests as they would like.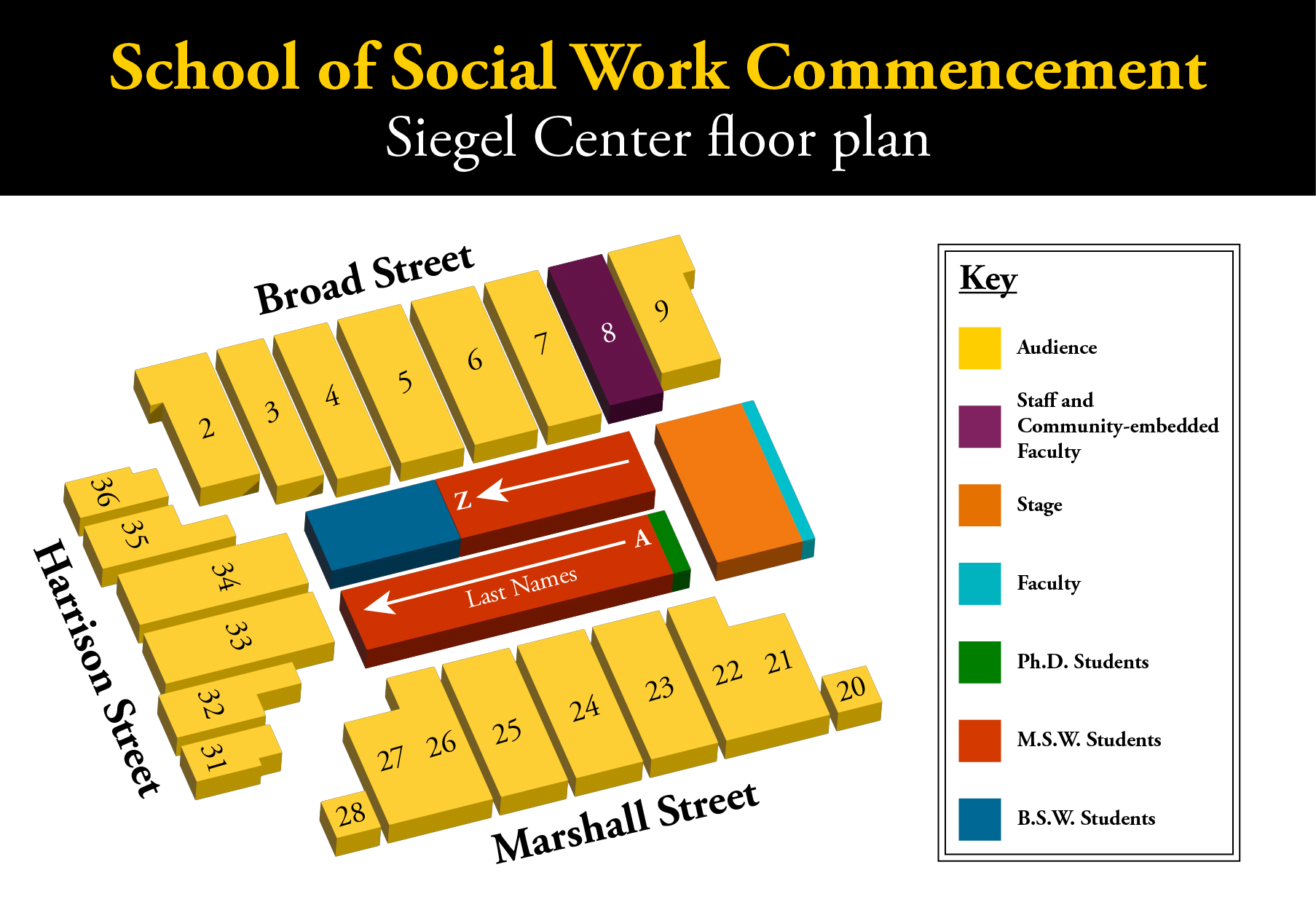 Regalia
Regalia is available for purchase in-person at the Barnes & Noble @ VCU or online. Shipping charges will apply to all internet orders.
Check-in and parking
Graduating students should arrive no later than 10 a.m. ET. The ceremony will begin promptly at 11 a.m. No entry is permitted during the processional. The ceremony will conclude by 1 p.m. Upon exiting the Siegel Center, re-entry will not be permitted.
Please allow ample time for parking. Parking will be free for graduates and their guests at the VCU Bowe Street Deck and the West Broad Street Deck.
Students should arrive wearing their cap, gown and hood for check-in. Upon arrival, follow the signs posted at the Siegel Center to get to the check-in area. The check-in area is nearest to the entrance at the corner of Harrison and Broad streets.

At check-in, students will be given a name (also referred to as a reader card) card to fill out. Students will line up based on the number on this card to ensure they come on stage as noted in the program and friends and family will know when their student's turn is coming. Students will have the opportunity to write out their name phonetically on this card to ensure their name is read accurately. Students will need to hold onto this card until they cross the stage.
Footwear
Be advised that the processional and recessional involve navigating several sets of stairs. Please wear shoes that you can comfortably walk in. See below for information on wheelchair accessibility.
Personal items
Graduating students are required to leave all personal items including purses, coats, umbrellas, cameras, etc. at home, in their vehicle or with family during the ceremony.
Food and gifts
No outside food or drink is permitted. Please note that Siegel Center staff will not allow balloons or glass into the building, including gifts such as picture frames.
Photography
A professional photographer will photograph each graduate during the ceremony. Graduates must fill out their contact information on the reader card in order to be contacted by the photography company after the ceremony.
University ceremony
Graduating students who have submitted a graduation application online through eServices will be invited to both the School of Social Work departmental ceremony (May 12) and the university-wide Commencement ceremony (May 13). Students may choose to attend one, both or neither ceremony.
Students will stand as a group to be recognized as social work graduates at the university-wide ceremony, and students will be individually called by name and walk across the stage at the School of Social Work departmental ceremony.
Accommodations
School ceremony
Requests for special accommodations at the school ceremony for graduating students should be made by emailing sswinfo@vcu.edu. Additional information is available through Student Accessibility and Educational Opportunity or, for guests, through Equity and Access Services.
Parking: Guests may park anywhere with a placard indicating a disability. Nearby parking decks are located at the corner of Broad and Harrison streets and the corner of Bowe and Marshall streets. Additional decks are at the corner of Cary and Harrison streets and the corner of Main and Laurel streets. For more information, please call the Siegel Center Operations Line at (804) 827-1000.
Access to the Siegel Center:
The drop-off zone for guests with disabilities is located in the front of the building near the intersection of Broad and Harrison streets.
Accessible parking is available in the parking decks at the corner of Broad and Harrison streets, the corner of Bowe and Marshall streets, and the corner of Main and Laurel streets.
Accessible entrances are located at both main entrances at the east and west ends of the building.
The elevator is located in the center of the lobby to allow guests access to the first (arena floor level) and third floors, event permitting. Guests with disabilities and their companions are given first priority for service at the elevator.
The arena is wheelchair-accessible.
Accessible seating: On the day of the ceremony, event staff with be able to assist with providing directions to accessible seating areas.
Accessible seating options exist throughout the arena in all general seating categories and view perspectives. Accessible seating is located at the top of Sections 14, 15, 32 and 35.
Individuals who require accessible seating should request assistance from event staff, who will provide space for individuals in need of accessible seating along with one companion chair in sections 14,15, 32 or 35.
Other accommodations:
All restrooms, drinking fountains, telephones and counters at points of service are accessible.
University ceremony
Accessible seating options are available throughout the exhibit halls of Greater Richmond Convention Center. In addition, closed captioning will be provided on screens throughout the exhibit halls for persons with hearing impairment. An accessible drop-off area will be designated on Third Street, adjacent to GRCC.
For graduates needing accommodations at the GRCC, please contact Student Accessibility and Educational Opportunity at (804) 828-2253. Family and guests seeking additional information about accessibility or ADA accommodations can find details on the GRCC website.
Degree and diploma conferral
The official conferral date for May 2023 degrees is Saturday, May 20. Degrees will post to your record on Tuesday, May 30. Degrees will only show for those students who have satisfied all degree requirements and receive final approval. Check your academic transcript via eServices to ensure your degree has been posted before requesting official transcripts.
Diplomas will be mailed beginning Friday, June 30, to the address provided during graduation checkout. To receive your diploma, you must meet all financial obligations to the university. Diplomas will be on hold for students who have not met their financial obligations.
Please contact the Office of Records and Registration at graduation@vcu.edu or (804) 827-1673 if you have additional questions.
If you are requesting changes based on a legal change of name, the first step is to process your legal change of name with the university. If you have not changed your legal name and are requesting changes based on the name of use, please visit Call Me By My Name.
Stay connected as alumni
Class of 2023 graduates, we hope you will continue to remain engaged with the School of Social Work as alumni and take pride in our national standing as one of the nation's top schools of social work and the highest-ranked in Virginia.
Whether it's making small contributions to the school when you can, working with your employer to serve as a field placement site, or volunteering your time, your participation in the life of the school has an amazing impact on the students who come next. Join the 11,000 alumni of the School of Social Work nationwide, and together we can open doors for the next generation of changemakers!
We want to stay connected by sending you our quarterly alumni newsletter; and by sharing events, networking and professional development or continuing education opportunities.
Please take a moment to:
If you have questions or need assistance, you can contact the school's alumni team at (804) 828-0154 or give2vcussw@vcu.edu.
Grad profiles
14 Child Welfare Stipend Program students are graduating in 2023 and will go on to work with the state Department of Social Services or local DSS agencies. Meet the CWSP Class of 2023.
More information
Graduates who need assistance with their curriculum plans, degree requirements or the graduation application should check with their student success advisors. Graduates unsure of who their advisor is should email sswadvising@vcu.edu.